Singles Holidays Guide Perth
Last revised: 20 January 2023
Summary: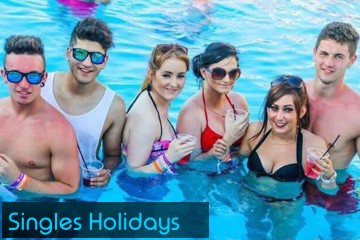 - A great way to meet people while seeing the world or taking it easy (Ages: all)
Emphasis on LOOKS:
Low
. Emphasis on QUALITIES:
High
. Looking for LONG TERM:
Most
. Looking for FLING:
Many
.
Singles holidays like Contiki tours are the best! Their tours are designed for under 35s, but there are resorts and other tour companies for all ages. It is great. Similarly aged people, most of who are single, and all in a great mood. You get to know people while seeing the world or taking it easy. Compare the options...
Ok, so here's where we're at... Contiki tours are awesome, but not everyone is aged under 35 and/or can afford to go overseas. Whilst we list some options below, ultimately, we want to partner with a resort to run singles holidays in Australia. Until then, here is what already exists...
Contiki Tours
- Under 35s start here if you can afford to go overseas
Bus your way across Europe, America, Egypt or heaps of other exotic places, with a bunch of other under 35s, most of whom are single. So much fun. You get to know each other pretty well, see the world, and share good times. There is plenty of drinking, partying and stories about the night before too. The tours themselves are well priced but the international air-fares are the challenge for under 35s. The top tip: pace yourself - don't get Contiki cough from partying too hard in the first couple of days.
Other singles tours
- Plenty of other operators run tours of places like Europe for other age categories
There are European bus tours for 30-40s, 50-60s and 60+ singles. Too many to report here, but not so much for 40-50s. Go to Google for more details.
Backpacker resorts & hostels
- Cheap accomodation, so it attracts plenty of young singles
Backpacker resorts and hostels attract young travellers from all over the world. You never know who you might meet by the pool or at the bar. Every place is different. A place somewhere in North Queensland might have more people relaxing around the resort during the day and in Surfers Paradise where they go to theme parks by day and nightlife later.
Gold Coast
- Plenty of young singles up there all year, then there's Schoolies
We did the GC over New Years. So many single 18-30s floating around. Not so many over 30s singles though at that time. Of course, Schoolies is the biggest 18-25s party in Australia. Other age groups are more prevalent throughout the remainder of the year.
Bali, Thailand, etc
- Cheap international destinations, popular with 25-40s
Bali and Thailand are famous international destination because they are cheap. Because they are cheap, have nice beaches and loads of nightlife, plenty of young-ish singles from Australia go there.
Victorian coastal spots over Summer
- Over Summer places like Phillip Island, Lorne and Sorrento light up with young singles
Beaches, singles, Summer... need we say more? The Island, Lorne, Sorrento and other coastal areas fire up. Even places like Venus Bay, Inverloch and Wilsons Prom see plenty of singles.
Other Aussie coastal spots over Summer
- Ballina-Byron, Coffs, Newcastle, Sunshine Coast, etc.
Pretty well anywhere with a decent beach in Australia has singles on the beach by day and in the bars by night.
Singles Cruises
- There are plenty of singles of all ages on ships
We're not experts on this, but we know there are singles cruises and have been on a cruise (that wasn't a singles cruise). There is tons to do on cruise ships. Many cruise companies have singles activities and arrange for singles to sit together at dinner. Ask your travel agent for more details.
Ski Resorts
- The best ski resorts attract plenty of singles
Mt Buller and Falls Creek in Victoria and probably Perisher in NSW have ski runs and basically nightclubs/bars. You never know who you might meet on the slopes, at restaurants and at the nightspots. This is probably more of a thing for the 25s and over crew.
Queenstown NZ
- The world's adventure holiday centre, plenty of adventurous singles
Ski slopes, bunjee jumping, white water rafting, jet boats and other adventures are what Queenstown is all about. Plenty of singles are right into adrenaline rushes and adventure, so this place is on their bucket lists.
To get the latest updates on where to go, sign-up for a free H4S membership and like us on Facebook.
Other ideas? Tell us below...
Latest reader comments
No comments on this page yet. Please be the first...
Perth Menu
Free Membership
Click here to Sign-Up for a FREE Membership to access member areas, exclusive invitations & Email news.
Upcoming events
See our shopping site: MallAndDeals

Suggest H4S to a friend:
Enter their Email address below...